So what dividend investing for passive income? Investing in companies that pays dividend is the simplest form for investors to create passive income. Ever wondered if you can live off from dividends from companies that you've invested in? In this post I will cover how to start in dividend investing to build that passive income goal. But, first off let us cover the basics.
What is a dividend?
To better explain I'll give an example. When you buy shares of a company and the company makes a profit, the company may either use those profit to reinvest back to the company to further grow it, say they bump up their budget on their R&D. Others can choose to give portions of the earning back to their investors, which is you.
Dividends are generally paid in proportion to the shares held by investors. Not all companies pay dividends to investors.
When Are Dividends Paid?
A company's board of directors determines the dividend payment schedule and amount to pay. Some companies pay investors annually, twice a year or quarterly.
In order to receive dividend payments you need to be holding shares of a company before the ex-dividend date. This is the holding time period to qualify for the dividend payment by the company.
Anyone who purchases shares of a company prior to the ex-dividend date, and holds the shares throughout the ex-dividend date will receive the dividend as announced by the company.
What is A Dividend Yield?
Dividend yield is the percentage figure calculated by dividing the total annual dividend payments, by the current share price of the stock.

For example, if a company's annual dividend is $1.50 and the current stock price is at $25, the dividend yield is 6% ($1.50 ÷ $25).
So, How do I start in dividend investing for passive income?
Now we know what dividend are and payment schedule. To start, you need a brokerage account. A brokerage account is an investment account that allows you to buy and sell stocks. There numerous online brokerage account where you can apply now.
How To Pick Companies for Dividend Investing for Passive INcome
Dividend yields vary by companies, 2% to 6% is considered a good dividend yield, but a number of factors can influence whether a higher or lower payout suggests a company stock is a good investment.
Investors unsure which stock to pick should stick with the dividend aristocrat. A company will be considered a dividend aristocrat if it raises its dividends consistently for at least the past 25 years. Check this list from Time for latest dividend aristocrat and consider adding them to your investment portfolio.
Best to do a dollar-cost averaging to build up your dividend stock investment portfolio. Dollar-cost averaging is a purchasing strategy in investing that involves periodically investing a set amount of money regardless of the market price of the stock.
Also, consider setting up dividend reinvestment plan (DRIP) if your brokerage account supports it. A DRIP is a program that allows investors to reinvest their dividends into additional shares or fractional shares of the underlying stock on the dividend payment date.
On this post we will go to the some of the concepts of different ways income can be classified. In general terms income is money you can make in exchange of providing work (labor/service/product), capital at work(investment) or by luck.
Total Income = work + investment + windfall gain.
Temporary Income
Income is classed as temporary if the income flow ceases the day you cease work.
Salary and Wages
Business Profits
Director Fees
Permanent Income
Permanent income on the other hand, does not depend on your active involvement(most of the time). Income flow would continue to work for you for the rest of your life and can be passed onto your beneficiaries.
Interest
Rents
Dividends
Royalties
Windfail Gain
The other main source of income is by way of a benefactor or simply luck. This is more about good fortune and just for information.
Inheritance
Marriage
Lotteries
Attaining Financial Success
Having financial success involves progressively moving from 100% income coming from temporary income to be coming from permanent income.
The process to realising this is as basic as it gets. Each time you earn some money from work(temporary income), save and invest as much of it as you can to turn it into investments(permanent income).
How Does That Look Like?
Given the choice between $1000 now and $100 each year for the rest of your life which would you take?
This is the choice you would have to make everytime, spend it or invest it.
Let's say your earned $1000/month and you started to invest that money where it can earn a 10% returns yearly that is $100/year. $100 divided by 12 months = $8.33.
You now have permanent income of $8.33/month
Now that is amazing. Progressively if you can increase your investment, your permanent income increase.
| | |
| --- | --- |
| Amount Invested | Permanent Income/month |
| $1000 | $8.333 |
| $2000 | $16.333 |
| $5000 | $41.666 |
And we haven't factored in the power of compounding interest yet. I'll cover that in another post. Basically the earlier you start and the longer your investment goes you would see exponential returns.
The goal is to invest savings so that permanent income flow continues to increase to the point where you can break the hand to mouth cycle that most of us are caught in. The choice to spend or invest is yours.
Most of us have a feeling that financial success is not something that can be attained, we probably feel that we would work for the rest of our life, and others just accepted that others will have extreme wealth and they won't. The mentality needs to change, everyone started small, the more dedicated and educated you are in increasing your investments the easier it will be to become financially secure.
The question always asked on Quora. Should I start a blog or start a Youtube channel and why?
In my own opinion, you should aim to have both. Both platforms complement each other in a way that you can cross-promote. When you start a blog or Youtube channel you can earn passive income from attention from the content. Content is always king is still true up to this day. Aim that the content you put out has a balance of high quality and an easy to produce that way it can be sustainable.
What Is a Good Niche For My Blog or Channel?
The beautiful thing about starting a blog or Youtube channel is that your topic can be just about anything. Don't worry if you are not an expert and only a beginner, your topic can be about what you are learning. If you are a professional – a doctor, a nurse, housewife, baker, gardener, etc.
It helps if you are passionate about the topic that way you can produce some amazing original content.
Get creative and start sharing content.
Do I need an Adsense Account?
An Adsense account is needed for ads to be displayed on your blog or Youtube channel. Before you apply you should be eligible to display ads on your blog or channel.
Your Youtube earnings will be shown in your Youtube Analytics Revenue on Youtube Studio. Every month between 10th and 14th of the month the Youtube earnings will be added to your Adsense balance.
Check Google Adsense Program policies to be sure your content adheres to these policies.
Is there a cost to get started in blogging or creating a Youtube channel?
Both platforms can be started without upfront investments. If you look at Blogger, both are Google products and totally free, all you need is a Google account.
Before you can start earning on Youtube you need to have at least 4000 hours views within a year and 1000 subscribers then you can get accepted to Youtube Partner Program. Check this detailed post on how to earn passive income from Youtube. Ads will be shown on your videos and you would get a commission when users click on the ads or get certain amount of views.
If you go with a Blogger account, you get free a *.blogspot.com subdomain. As long as your content is original, authoritative and of high quality, you can apply for Adsense and you would get approved. A code snippet is inserted on your blog and it can display ads. You earn commissions from impressions and if visitors click on the ad.
Wrapping it up
You can't go wrong with either starting a blog or starting a Youtube channel. Regardless of medium either in writing or videos. You would learn a lot from this journey and would have setbacks. If you keep at it and be consistent you would see results at the end. Enjoy the process of creating content and learn from setbacks.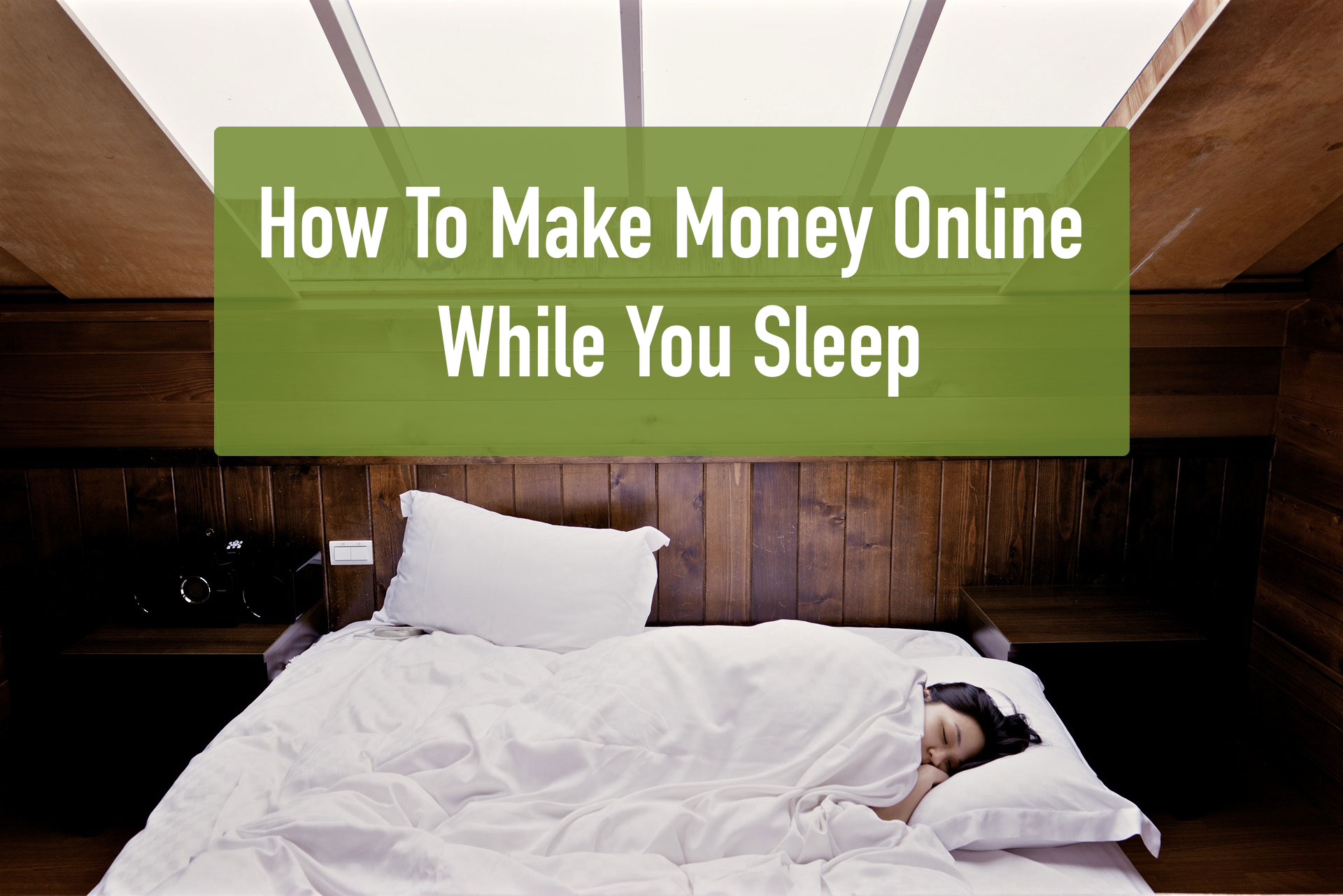 It feels good waking up after a good sleep, reaching for your phone to shut off the alarm, and excited to start the day. Your excitement comes from knowing that overnight income was generated.

"If you don't find a way to make money while you sleep, you will work until you die." Warren Buffet
There are 3 general ways of making money online.
Offering your services
Selling a product
Attention from content
Why Offering Your Services Cannot Be A Source Of Passive Income?
When you are a skilled professional, people will pay you money for your services. But there is only a limited amount of time you can offer your services for – 40hours a week or stretched to 80 hours is overkill.
You are basically trading time for money. This method cannot be scaled thus cannot be a source of passive income.
What Is Passive Income?
Passive income is money earned from a business or asset without actively participating in the process.
Passive income has a get rich quick tone to it, but don't be fooled. There is a lot of upfront work that needs to be invested.
This is what having passive income is all about. Income that goes beyond trading your time for money. It's how you detach your ability to earn from the limited time that you have in a day.
How Do I Start?
As with everything, you need to start small and you need to be consistent- always keeping the end goal in mind. When your passive income exceeds your expenses, then financial freedom is attained.
Evaluate yourself with this these basic questions
What do you want?
Is there something that there is a need or a demand for that you've identified?
What skills are you willing to learn? Will you enjoy learning it?
What Products Can I Start Building?
Before thinking of what product to build, ask yourself what value the product adds in general. Why would people want to buy your product and what purpose does it serve.
The below example covers digital products that are not tied to any inventory and doesn't require shipping or logistics. Making the barrier of building product entry low.
Information Products

Write an ebook and sell them on Amazon
Create courses for a topic and sell them on Udemy, Skillshare or Coursera

Digital Artworks

Create digital tracks and sell them on …
Create digital artworks, photography, videos and sell them on Adobe
Sell merch with your artworks on Amazon Merch

Build Mobile Apps
Build Website Templates and Plugins
All of this needs upfront work, but it would keep you earning passive income as long as people find value for your product.
What If I Don't Know How To Create A Product?
Then answer is to use affiliate marketing to build passive income. This is when you do not own the product but you are referring people to buy that product created by someone else. When a person you referred buys that product you get a commission.
Amazon Affiliate is one of the most famous ones.
If there is a product that you like using, try searching if they have a referral program.
How Do I Earn Passive Income From Attention From Content?
To earn passive income from the content, your content needs to be valuable. It can be a tip, advice, free resource, tutorials, etc. The more good quality content you put the more attention it gets.
This content can be published on a website or blog, shared on a mailing list or on shared on social media like twitter, facebook and instagram.
In general, the more views or traffic it receives, the more chances it can be monetized.
Build a decent following of people that trust you.
Companies can pay you to promote their product if you have a decent following. The more views, likes or reach your social media post generated, the more you would earn.
In the case of Youtube, if you have your channel monetized. The more views your video gets, the more earnings you receive.
With the attention you get from your content, you can direct your users to your products or affiliate products.
So, What To Do Next?
Now that you got an overview of what passive income is and how it can earn you money while you sleep, now is the time to hit that subscribe form on the bottom of this page.
I'll be covering more topics on different types of passive incomes and hopefully, one that tickles your fancy and gets you all riled up and excited.